Fairford teenagers discover human skull in River Coln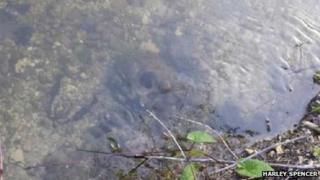 Human remains found in a shallow river in Gloucestershire are to be examined by a forensic anthropologist, police have said.
Two teenagers found a skull in the River Coln at Fairford last Sunday.
The remains, found in water close to Cinder Lane, could have been there for many years according to a Gloucestershire Police spokesperson.
Gloucestershire Police said a Roman cemetery was recently found near the site, which could explain the findings.
'Eye sockets'
While BBC reporter Zoe Gough was filming with the boys, named Christian and Robbie, on Thursday afternoon, they discovered another bone in the river.
"I thought it was a human skull because it had the eye sockets and it had teeth, just like ours," said Christian.
"I was in shock. It just hit me really. I couldn't say anything.
"I thought someone had got murdered and dumped in here, but then the police rang up on the phone and said it was 700 years-plus old, so I wasn't really worried then".
Robbie said: "I couldn't sleep the first night, I was getting a bit scared. The second night wasn't too bad."
The River Coln rises near Brockhampton, east of Cheltenham, and flows south-east into the River Thames at Lechlade, some 20m (32km) away.