Rodborough Fields housing objection from wildlife trust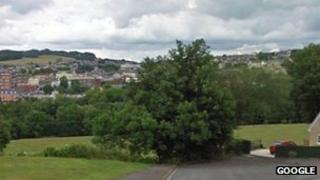 Gloucestershire Wildlife Trust has objected to plans to build houses on a wildlife site in the Stroud valley.
It said Lioncourt Homes' planning application to build 100 houses on Rodborough Fields was "significant".
The trust said the land was rich in wildlife and it also had concerns about proposals to use "biodiversity offsetting".
Lioncourt Homes said the land was recognised as a "particularly sustainable location for development".
'Flawed'
Gloucestershire Wildlife Trust described Rodborough Fields as a "unique unimproved species-rich neutral grassland" and added that the plans would also affect Frome Banks, a stretch of river and former nature reserve nearby.
It said the principle of biodiversity offsetting was that damage caused to wildlife by developers could be compensated by enhancing or creating wildlife habitat elsewhere.
"For the Wildlife Trust this concept is fundamentally flawed," said Dr Colin Studholme from the trust.
"First it is not possible to recreate some ancient habitat types, such as the grassland community at Rodborough Fields, and second it does not take into account the fact that a local community might be losing their much-loved wildlife area and the compensation for that loss is carried out somewhere else."
Lioncourt Homes has appointed a consultancy to undertake ecological surveys and "masterplan the proposals to respond as sensitively as possible to the species and habitats present."
"Dialogue has already occurred between Lioncourt's consultants and Stroud District Council officers about the principle of biodiversity offsetting and we hope to engage further in this respect in the near future," a spokesman for the developer added.
"As with any planning application, the council will need to undertake a balancing exercise to weigh up the benefits of delivering much needed housing, against identified impacts and consider whether the mitigation measures outlined in the planning application enable them to grant planning permission."