Forest of Dean health campaigners claim partial victory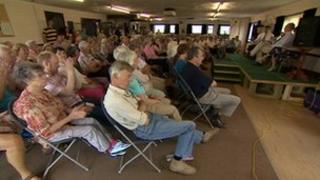 A Welsh health board is set to reverse a rule which stopped Gloucestershire patients being treated in England, campaigners say.
The Welsh government wanted the approximately 8,000 Welsh-registered patients in the Forest of Dean to be referred to Welsh hospitals only.
But after a campaign from patients and Forest of Dean MP Mark Harper, the health board is to reverse its policy.
Pam Plummer, from Action4OurCare, said campaigners were "delighted".
The news was announced by campaigners at a public meeting on Saturday.
Concerns remain
The Aneurin Bevan Health Board in Wales brought in the policy last September.
A change in the rules has now been recommended for approval and a final decision is set to be confirmed on Wednesday at a board meeting.
The reversal would mean a return to the status quo where English patients can automatically be referred to the four health trusts along the border for hospitals in Gloucester, Cheltenham, Hereford and Bristol.
Approval is still needed from the health board if patients need to be referred to elsewhere in England.
Campaigners said they now wanted legislation in place to ensure they could be treated in England.
"What we are worried about is that we don't have a permanent long term solution, which is why we are going to continue to fight," said Ms Plummer, who is the chair of the group.
Their efforts have been supported by Forest of Dean MP Mark Harper who has held talks with ministers about the issue.
The policy affects patients who are registered with three Welsh GP surgeries - Wye Valley Practice in St Briavels, Town Gate Practice in Sedbury and Vauxhall Practice in Tutshill.
Another 3,500 people in Hereford are also affected.
Campaigners fought the rule saying English patients would be faced with clinical, waiting time and travel difficulties.