Hospital A&E closure called 'deeply flawed' by Cotswold councillor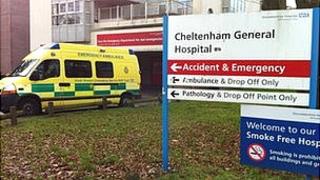 The closure of Cheltenham's accident and emergency department overnight have been called "deeply flawed" by a Cotswold district councillor.
Gloucestershire Clinical Commissioning Group (GCCG) confirmed last week out-of-hours emergency cases will be sent to Gloucestershire Royal from August.
Lib Dem councillor Paul Hodgkinson said the consultation process had not been carried out properly.
A GCCG spokesperson said it would provide "more robust" medical cover.
Mr Hodgkinson said: "As a Cotswold councillor I only got to hear about this in the last couple of months.
"Consultation was meant to have been going on since February to May this year.
"I'm willing to bet that most Cotswold residents, when they hear this, will not have a clue about it, and that means the process in deeply flawed.
From next month, all out-of-hours emergency "blue light" cases will be sent to Gloucestershire Royal Hospital between 20:00 and 08:00.
Cheltenham will continue to deal with walk-in patients, but anyone seriously ill or in an ambulance during that time will have to go to Gloucester.
'Very concerned'
The changes were agreed last Thursday by GCCG, which took over from the primary care trust in April.
"I'm very concerned about this because a large swathe of the Cotswolds look to Cheltenham for their services," said Mr Hodgkinson, who is also a county councillor.
"The quickest route for any emergency is to get into Cheltenham, it's not to go via Gloucester - that's another 10km on top of the journey time."
Dr Helen Miller from GCCG said: "After careful deliberation and discussion, the governing body reaffirmed commissioner support for the service change proposals and endorsed the implementation plans.
"In terms of emergency care, there is recognition that the service change proposals, developed by clinicians, are designed to ensure early senior assessment and decision making when patients arrive at hospital and more robust senior medical cover, round the clock."
'Best possible service'
Conservative MP Geoffrey Clifton-Brown said: "I can see the rationale for splitting services between Gloucester Royal Hospital and Cheltenham Hospital as the two are only seven miles apart.
"However, what I will be looking for is an enhanced service at the Gloucester Royal Hospital Accident and Emergency so that all of my constituents will receive an excellent service and are not expected to wait for many hours to be seen.
"As an individual I would prefer one superb accident and emergency service available to me, rather than two less efficient services.
"The most important aspect of this is that the people of the Cotswolds receive the best possible service."
Last week, Cheltenham's Lib Dem MP Martin Horwood said there were "real weaknesses in the processes that have been followed", while Cheltenham Chamber of Commerce's chief executive Michael Ratcliffe said he did not "feel the board has acted correctly in the way they have brought this information out into the public domain".
The emergency departments at Gloucestershire Royal and Cheltenham General Hospitals currently treat about 120,000 patients every year.
NHS Gloucestershire has previously estimated that 16 patients, on average, with critical illness or injury would be diverted from Cheltenham to Gloucester at night time.