Northleach Old Prison sale to Cotswold charity complete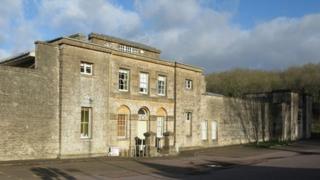 An 18th Century prison building in the Cotswolds has been sold to a charity, two years after it was put up for sale.
Cotswold District Council announced its intentions to sell Northleach Old Prison in 2011 to save itself the repair and maintenance costs.
Now after a lengthy fundraising campaign the Friends of the Cotswolds charity has taken ownership.
The group wants to turn the Grade II-listed prison into a community heritage site and open a rural crafts academy.
Simon Randall, chairman of the group, said the academy would "promote training in stone-walling, hedge-laying and provide work for blacksmiths and wheelwrights".
The prison was was built in the 1790s as the Northleach House of Correction, one of four houses of correction in Gloucestershire.
The keeper's house, female cells, police station, court room and front facade and perimeter wall still survive.