Pumping stops at Pittville Park lake in Cheltenham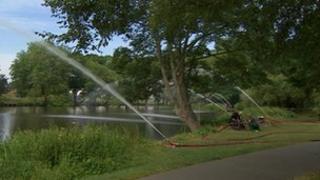 Pumping to restore oxygen levels in an ornamental lake in Cheltenham where about 25,000 fish died has now stopped.
The Environment Agency and Gloucestershire Fire and Rescue Service had been working round-the-clock since Wednesday at Pittville Park's lake.
Park ranger Janice Peacey said oxygen levels had now reached 45% which she said was "an improvement as they are meant to be between 70 and 80%".
The Environment Agency will reassess the situation on Sunday morning.
Not restocked
Ms Peacey, from Cheltenham Borough Council, said: "The levels had reached 45% when readings were taken at approximately 6am this morning - yesterday they were 30% - so they are going in the right direction.
"The Environment Agency are happy with the oxygenation of the lake and are now happy enough to stop the operation."
She said she would be working closely with the Environment Agency in the coming weeks to come up with solutions to prevent it happening again.
She added the lake would not be restocked as the existing fish population would recover.
The borough council, which owns the lake, said it believed the water's low oxygen levels were linked to environmental conditions, such as decomposing algae or sediment stirred up by recent storms.