Gloucester stab death: Police to quiz four further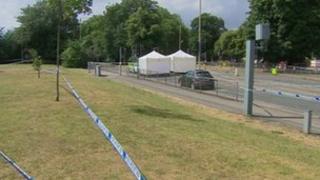 A man has been bailed and four others are being questioned further over the fatal stabbing of a man in Gloucester.
Five people were arrested after a 50-year-old man, named locally as Neil Bennett, was found fatally wounded on Saturday evening near Gloucester Park.
On Monday police were granted an extra 36 hours to quiz two men and a woman who were the first to be arrested.
A police spokesman said magistrates had earlier granted the same extension for a third man to be kept in custody.
The incident happened hours after hundreds of people had filled the city's park for the annual carnival and procession.
However police superintendent Emma Ackland said the park and funfair had nothing to do with the incident.
"There was a disturbance, an altercation, that occurred in a house nearby and then the people happened to run through the park in order to try and escape, and were pursued by the people who have been arrested," she said.