Stroud council considers badger TB vaccination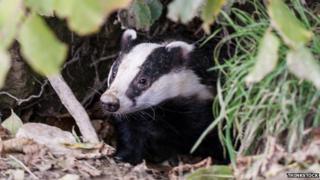 A council in Gloucestershire is to look at funding a badger vaccination programme on its land to try to stop the spread of bovine TB.
The idea was discussed at a meeting of experts at Stroud District Council on Monday evening.
If it gets approved, the scheme would be partially paid for by next year's council budget.
A cull of badgers is due to begin later this year in parts of the county, but Stroud is not in the cull area.
A panel of experts, including representatives from the Animal Health and Veterinary Laboratories Agency (AHVLA), Gloucestershire Wildlife Trust, and a cattle industry expert took part in the seminar.
Labour councillor Paul Denney, who hosted the meeting, said there was enough interest in the idea to put the motion forward to the full council.
NFU unconvinced
He added the authority would need a partner to part-fund the scheme and carry out the work, but there was a long way to go before agreeing the finances.
The leader of the National Farmers Union (NFU) in Gloucestershire, Charles Mann, said he was not convinced there was enough scientific evidence to show a badger vaccination programme would work.
A pilot cull would run over a six-week period anytime between now and the autumn. It could see up to 5,094 badgers killed across the two pilot areas in parts of Somerset and Gloucestershire.
Under the plans, badgers will be shot in the open without first being trapped in cages.
Some farmers believe the cull will help prevent the spread of bovine TB among cattle.
Animal welfare and wildlife campaigners have opposed the cull, which will allow wild badgers to be shot by trained marksmen when the animals venture out of their setts at night.
Although Stroud is not in the designated cull zone, any future cull could be rolled out to the area, where the problem of bovine TB is high.