Gloucestershire experiences sharp rise in food bank use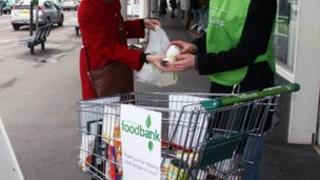 The number of people using food banks in parts of Gloucestershire has more than doubled in a year, according to research by the Trussell Trust.
The survey looked at the number of people accessing food banks between 1 April to 30 June 2012 and the same period in 2013.
In most parts of the county use doubled but in Cheltenham it quadrupled.
The research found just a third of people using food banks expected their situation to improve in the next year.
"That thousands more people are turning to food banks for emergency food is a stark reminder of how tough things have become for many ordinary people," said Chris Mould, chairman of the Trussell Trust.
The trust operates four centres in Gloucestershire - in Gloucester, Cheltenham, North Cotswolds and Stroud - offering three days of food to recipients.
The survey also found some 70% of families suffering from food poverty with children in primary education said they relied on free school meals or food given out by breakfast or after school clubs.
"We're meeting parents who've gone hungry for days in order to feed their children, and school holidays are always especially difficult with many budgets stretched to breaking point," said Mr Mould.
People are referred to food banks by professionals such as doctors, social workers or schools liaison officers.
The Department of Health defines food poverty as "the inability to afford, or to have access to, food to make up a healthy diet".
The study was carried out by The Source research agency.