'Marine algae' found in Gloucestershire, 24 miles from sea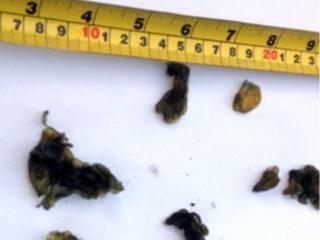 Suspected marine algae has been found in Gloucestershire a year to the day that seaweed rained down on the same village.
A tornado in Clevedon in Somerset was thought to have carried seaweed to Berkeley near Cheltenham - 24 miles from the sea - in August 2012.
BBC weatherman Ian Fergusson said an "almost identical" weather system may have "delivered" seaweed on Monday.
He said although seaweed "could be uplifted" it might not be marine algae.
Clumps of algae were spotted in residents' gardens in Berkley and 16 miles away in Tuffley, Gloucester, after a night of heavy rain.
'Wet and slimy'
"I was in the garden on Tuesday and saw all this stuff that had landed at the bottom of the garden - I thought it was weird," said Deborah Benton, from Tuffley.
"I thought it looked like seaweed but thought it was impossible.
"It's funny when I first saw it, it was wet and slimy like it had just come out of the sea but it's all drying up now."
According to Mr Fergusson, the "set up" for the tornado in Clevedon in 2012 was "identical" to that earlier this week.
"As the rainfall radar suggests, from Monday afternoon there was a line of thunderstorms up the M5 into parts of south Gloucestershire which moved across from the Severn Estuary into Berkeley itself," he said.
"Somewhere embedded amongst that was an updraft from a thunderstorm, probably with a bit of spin in it, but whether we had a tornado somewhere on the beach or a funnel cloud that brought that seaweed inland - we probably will never know."
'Good fertiliser'
Mr Ferguson added that without samples for testing the "jury was out on whether it was seaweed or a cyanobacteria", a bacteria which can swell up when it gets wet.
"I have a pet theory that some seaweed from storms may be misidentified cyanobacteria," he said.
"The meteorological reason why marine algae could be uplifted by a storm is valid but I'd expect evidence of deposition on cars or roofs.
"But it's good fertiliser if nothing else."