Fraud and theft-accused coroner Alan Crickmore in court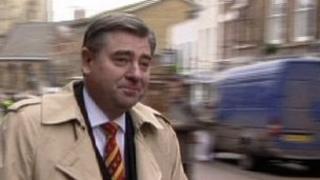 A coroner has appeared before a crown court judge charged with fraud and theft offences totalling more than £2m.
Gloucestershire Coroner Alan Crickmore, 57, is accused of 12 counts of theft and eight counts of fraud.
It follows a police inquiry into alleged breaches of the solicitors' code of conduct and accounting rules.
Judge David Higgins set a date of 17 October at Southwark Crown Court for a plea hearing.
The fraud charges include seven counts of fraud by abuse of position and one count of fraud by false representation.
Mr Crickmore, of East Approach Drive in Cheltenham, was suspended from duty in December 2010 when the Solicitors Regulation Authority began investigating his Cheltenham law firm.
He was arrested in January 2011.