Police open unit to combat drugs at Erlestoke Prison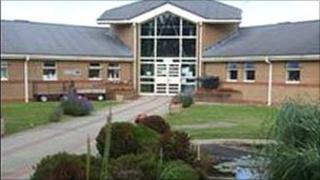 A police base is being opened at a Wiltshire prison in a bid to reduce the amount of drugs being brought in and distributed.
It will operate from a mobile hub outside the perimeter of Erlestoke Prison near Devizes, and will act as a base for officers patrolling the area.
Her Majesty's Prison Service, Wiltshire Police, Wiltshire Council and Erlestoke Parish Council all support the scheme.
A spokesman said it would "reinforce the robust drugs policy" at the prison.
Wiltshire Police's Matt Armstrong said: "This is a great initiative as it enables police officers to work remotely from their main station whilst out on patrol in support of the community and HMP Erlestoke.
"The prison is already routinely patrolled but this hub will provide an added facility to the local officers.
"It will also provide an on-site provision should officers need to interview anyone visiting the prison that they suspect of committing an offence."
In April, a new specialist drugs and alcohol abuse service was launched at the prison.