Cheltenham anti-social behaviour scheme could go countywide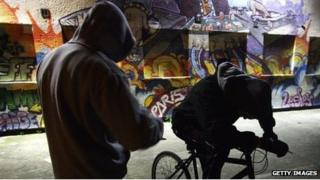 A youth project aimed at reducing crime and anti-social behaviour in Cheltenham could be expanded across the county.
The police-run Aston Project rewards young people who volunteer or attend clubs by giving credits which can be spent on activities such as pony trekking or canoeing.
More than 80 youngsters, aged 10-18, have signed up to the scheme since it started in 2011.
The project could soon be rolled out to the rest of Gloucestershire.
Insp Jon Roberts said: "The launch of our website will be the springboard that will enable us to involve and embed the project across all the communities of Cheltenham, and, looking to the future, across Gloucestershire."
'Vitally important'
The Aston Project, which is run by police at the Hester's Way station, is open to all but is aimed at people with "fewer opportunities available to them".
Participants earn one credit for each hour of time spent taking part in 'positive activities'.
Those aged over 14 years can also earn credits by working as volunteers at local businesses.
Martin Surl, Gloucestershire's Police and Crime Commissioner, said it was "vitally important" to find new ways of engaging with young people.
"The tendency in the past has been to marginalize young offenders as 'troublemakers' with little opportunity or desire for them to be re-habilitated into society," he said.
"The Aston Project is a good example of how I want the system to work for young people not against them."