Mikael Pedersen cyclists reach Gloucestershire to celebrate inventor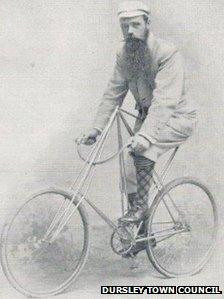 A group of cyclists has ridden 200 miles from Dover to Gloucestershire on Pedersen bicycles to celebrate the 120th anniversary of their invention.
Fourteen riders, from Germany, Holland and Austria, have arrived in Dursley, the town where Mikael Pedersen's cycles were first made in 1893.
The cyclists are visiting places linked with the Danish inventor in his memory.
One of them, Thomas Leissli from Nuremberg in Germany, said the bikes were "very special".
"They made a ride in 1973, from London to Dursley, [to celebrate the 80th anniversary], and 40 years later, we wanted to do the same thing," he said.
The group met Dursley's mayor and visited the Lister Shearing Company on Friday.
On Saturday they will visit the Gloucester Folk Museum, which has a collection of original Pedersen cycles.
Makers in England, Denmark and Germany still produce the hammock-saddled bicycle design using modern techniques and accessories.
Related Internet Links
The BBC is not responsible for the content of external sites.