Badger cull: Further Gloucestershire arrests include US national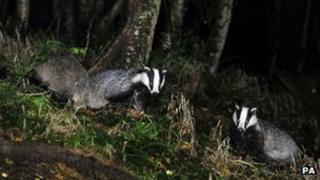 Three people believed to be badger cull protesters, including a US national, have been arrested in Gloucestershire.
A woman, 52, from Pittsburg, was detained along with a 20-year-old man from Walsall and another woman, 26, from Croydon, at 01:45 BST.
They were arrested on suspicion of aggravated trespass near Newent, Gloucestershire Police said.
Four other people were arrested and bailed on suspicion of theft and aggravated trespass last week.
About 5,000 badgers are to be shot in a six-week pilot in Gloucestershire and Somerset in a bid to curb bovine TB.
Defra will not confirm how many badgers have been shot so far during the pilot.
Those against the cull argue shooting badgers is "inhumane" and will be ineffective.