Further delay for Westbury-on-Severn surgery reopening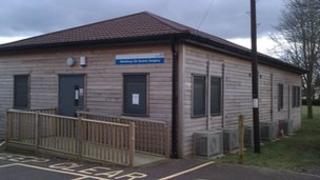 A GP surgery in the Forest of Dean, which was due to open in January, is still closed despite new computer equipment being brought in.
The new £300,000 Westbury-on-Severn Surgery closed on its opening day on 14 January due to a technical error.
The surgery is a branch of the nearby Newnham Practice and the NHS says the problem concerns the computer connection between the sites.
New equipment has not fixed the issue and another system is being installed.
Councillor Norman Stephens said the continued delay in reopening had been "quite a topic" locally.
The Forest of Dean district councillor, who represents Westbury and Newnham, said it had been "a tremendous inconvenience, especially for the elderly and infirm and for people without transport".
Cause of problems
Practice manager Gerry Barclay said the new equipment was being installed in a few days, but staff would have to be retrained on the system at the Newnham surgery before it can be tested at Westbury.
He said if the testing was successful, a date would be published for the reopening of the surgery.
A spokesperson for NHS England said: "Both the practice and NHS England have been making every effort to resolve the situation as quickly as possible and our IT team has been working with the practice to establish the cause of the problems.
"We are very close to resolving the connectivity issues and we are working with the GPs to open the practice as quickly as possible."