Libby Mears, six, leads charity walk in sister's memory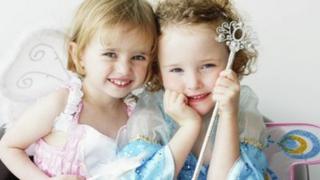 A six-year-old girl whose little sister died from meningitis a year ago has led her family and friends on a charity walk in Gloucestershire.
Initially doctors thought Mackenzie, three, had a stomach bug and then tonsillitis but she died of meningitis in less than a week.
Libby Mears of Melton Mowbray in Leicestershire headed the annual Five Valleys Walk for Meningitis UK.
She wrote to the Queen about the walk and had a letter of support back.
"I've been walking because my sister died of meningitis and we want to tell lots of boys and girls so they don't die from it," said Libby.
"I'm carrying this teddy because it's like Kenzie's only it's she got to take hers to heaven."
Libby's mother Angie Mears said she had not known all the symptoms of meningitis.
"I didn't realise that when they say look for the rash it was just pin-pricks and we didn't see them.
"I now know you check for cold hands and other things."
The annual event generally raises about £50,000.
"Families like theirs are our inspiration," said Sue Davie, chief executive at Meningitis UK.
"It's critical that events like this help to raise awareness of meningitis so that people know the signs and symptoms."
Money raised will go towards research into prevention, support for families affected by meningitis - from help with funeral costs to home adaptations and counselling support.