Stroud canal Dudbridge Lock gates installed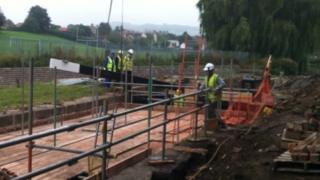 New canal gates weighing a total of 10 tonnes have been installed at two 18th Century locks on the Cotswold Canals.
It is costing £300,000 to join two stretches of water at Dudbridge Locks in Stroud, dubbed the "missing link", which have been cleaned and dredged.
Project manager Ian Edwards said the lock restoration was one of the last major obstacles to getting the canal navigable through Stroud.
Dudbridge Locks were originally built in the 1770s.
The restoration is part of a huge project to restore the seven-mile (12 km) Stroudwater Navigation and the 29-mile (46km) Thames and Severn Canal.
Once complete the link between the River Thames at Lechlade and the River Severn at Gloucester, 30 miles (48km) away, will be fully navigable for the first time since the 1930s.