Council to write to Gove over school's Ofsted rating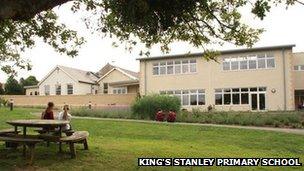 A council is writing to the Education Secretary amid concerns over an Ofsted report that places a primary school in Gloucestershire in special measures.
Stroud District Council said it "unanimously supported" parents at King's Stanley Primary who disputed the inspection's rating of "inadequate".
Some parents also fear there are plans for it to become an academy.
The Department for Education said it could not "stand by and watch when pupils are being failed".
The council agreed to support the parents and the school after a petition, with more than 1,100 signatures triggering a debate at a council meeting.
A council spokesman said: "We have agreed to support the school's position as we've got real concerns.
"We will be writing to Michael Gove and will ask him to look at the way this Ofsted inspection was carried out."
An action group, Save King's Stanley (SKS), was set up after claims from parents that the inspection, which took place in May, had a political agenda.
The group said it was concerned the Ofsted rating had been designed to convert the school into an academy.
SKS chairman Alan Bladon said: "It's great that the local council has stood up and shown unanimous support for the school.
"It's clear that the future of King's Stanley Primary should be a local decision with the school community."
A spokesman for the Department of Education said Ofsted had placed the school in special measures because it "had identified a number of weaknesses".
It said these included "quality of teaching, leadership and management and the achievement of pupils".
He said: "We work closely with schools and the local community when a school is underperforming, but we cannot stand by and watch when pupils are being failed.
"We have to step in and take decisive action so children get the first-class education they deserve."
With regard to the school becoming an academy, he said: "No decisions have yet been taken in relation to King's Stanley."
Ofsted said the school's progress would be monitored over the next two years and reported back to parents.
The previous Ofsted report, in 2009, had rated the school as "outstanding".
Related Internet Links
The BBC is not responsible for the content of external sites.