Gloucester cellar sex attack youths jailed for attack on boy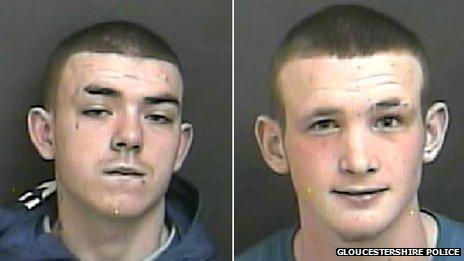 Two teenagers who carried out a "sadistic" sex attack on a boy, have been jailed for 10 years each.
Kane Lammin, 17, of Gloucester and Anthony Ford, 17, from Swindon, forced their victim to strip at knifepoint.
During the attack, in the cellar of a house in Gloucester, the 17-year-old victim had cement powder rubbed in his face and was burnt with a cigarette.
In sentencing the pair at Gloucester Crown Court, Judge William Hart lifted a media ban on identifying them.
Ford and Lammin had already pleaded guilty at an earlier hearing to serious sexual assaults. Ford also pleaded guilty to rape.
The judge described the ordeal the victim suffered in November 2012 as "painful, humiliating and generally terrifying".
"He suffered psychological harm which must be incalculable," he said.
Ford and Lammin admitted that they had lured the victim down into a cellar of a house in Gloucester.
The pair used a broom handle to carry out attacks on the victim, the court was told.
Lammin mixed concrete powder and tile grout with a mop and pushed it into the victim's face, before he burned him with the cigarette.
The victim managed to escape when the pair went upstairs and he ran naked to his mother's house.
Judge Hart told the court that Ford had said to a friend of the victim: "The kid's lucky because I wanted to kill him."
Prosecutor Virginia Cornwall told the court: "The victim suffered a sustained assault with both [Ford and Lammin] acting together.
"They used weapons and gratuitous degradation in a prolonged physical and sexual attack, designed to humiliate him."
A female friend of the victim, who did not wish to be identified, said she was "happy" with the sentence.
"They are utter scum. I hope they rot in hell for what they have done," she said.
Related Internet Links
The BBC is not responsible for the content of external sites.