Badger cull police must tackle 'harassment' allegations, say MPs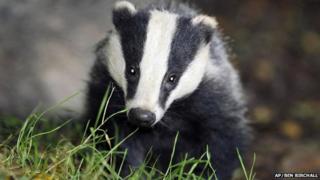 MPs have asked police to address allegations they are failing to deal with criminal behaviour by anti-badger cull campaigners in Gloucestershire.
Geoffrey Clifton-Brown, Mark Harper and Laurence Robertson have written to Chief Constable Suzette Davenport following concerns from constituents.
The Tory MPs said farmers have been harassed - though a prominent campaign group said it wanted no harassment.
A police spokesperson said more officers had already been deployed.
'Assaulted and harassed'
The letter calls for urgent action to be taken to ensure farmers are properly protected, and the law is enforced, to prevent harassment and unlawful behaviour by some of those opposed to the badger cull.
Mr Robertson, the MP for Tewkesbury, said: "We've received quite a few complaints from those involved, farmers claim they've been assaulted and harassed, they claim they've had theft of a number of traps and damage to traps, and tracking devices have been found of vehicles of those involved."
Mr Harper, whose constituency is Forest of Dean, said: "A number of my constituents feel very fearful, terrorised might not be too strong a word, by the harassment they have faced by some of those opposed to the badger cull.
"There is nothing wrong with genuinely peaceful protest, but there is evidence that some have gone much further than this and have broken the criminal law.
"The police must deal with such unlawful activity firmly and ensure the law is enforced."
Cotswolds MP Mr Clifton-Brown added: "Peaceful protests are one thing but criminal activity should be dealt with firmly by the police and I hope that the Gloucestershire Constabulary will take firm action if the law has been broken."
'Non-violent action'
In August an injunction was granted to restrict people protesting against the cull, preventing people from protesting within 100m of the homes, and within 25m of businesses, of anyone involved.
A Gloucestershire Police spokesperson confirmed the letter had been received and said more officers had already been deployed in the area, following reports of cages being damaged or stolen and tracking devices being attached to contractors' vehicles.
"Everything that has been reported to us has been, or is being, investigated," the spokesperson said.
Jay Tiernan from the Stop the Cull campaign group said: "We don't want to be associated with people harassing those involved in the cull.
"However I'm very happy that cages are being destroyed.
"We want to be seen to be involved in non-violent direct action, not harassment."
In October Natural England granted an eight week extension to the pilot badger cull in west Gloucestershire after fewer animals than the original target were killed in the initial six week trial.
Ministers and the NFU say culling badgers will curb TB in cattle, but protesters say it has little effect.