Transport secretary 'sympathetic' to A417 concerns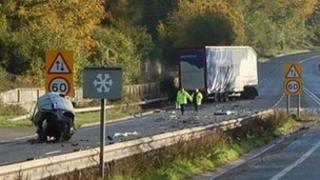 The Transport Secretary has met a delegation of Gloucestershire MPs and senior council figures to discuss funding improvements to the A417.
Major concerns about a section near Birdlip, locally dubbed the "road to hell", led to the meeting between MPs and Patrick McLoughlin.
The minister was "sympathetic" to their concerns, according to a Department for Transport (DfT) spokesman.
County Council head Mark Hawthorne said it had reached "the highest level".
'One voice'
Mr Hawthorne was joined by Cotswolds MP Geoffrey Clifton-Brown, Tewkesbury MP Laurence Robertson and senior Highways Agency staff at the meeting with Mr McLoughlin.
Mr Clifton-Brown's office said it was made clear in the meeting that a "strong case" was needed to get the road improvements included in the next round of major Highways Agency projects.
Mr Hawthorne said: "Now the hard work begins to build a coalition, both in Gloucestershire and outside our county, with councils, businesses and individuals all pushing to make sure that this road gets the improvement it so badly needs."
More than 33,000 vehicles are estimated to use the notorious stretch, between the Cowley and Brockworth roundabouts, every day - 14% of which are HGVs.
According to the latest Highways Agency figures, a total of 51 collisions on that stretch of road resulted in some form of injury between 2008 and 2012.