Badger cull protesters 'ecstatic' cull is over in Gloucestershire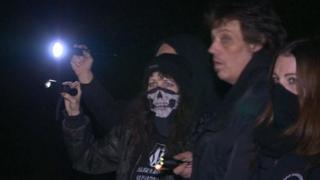 Campaigners opposed to the badger cull in Gloucestershire say they are "ecstatic" the programme has come to an end almost three weeks early.
The government wanted to kill 70% of the badger population to test how effective and humane a cull could be.
But Natural England, which grants the licence for the animals to be shot, says the targets cannot be met.
Drew Pratton, from Stop the Cull, said the decision was "a vindication this cull would never work".
The cull which had been extended by an additional eight weeks, from its original six-week duration, last month, ended at 12:00 GMT on Saturday.
"The numbers have been absolutely atrocious the whole way through," Mr Pratton said.
"Even by their own estimations they only caught 30% of badgers and they needed 70%. over the whole period.
"To a certain extent we have got in the way and they would have killed a lot more badgers if we had not been here.
"Free shooting of badgers has never been done before in this country and this was the trial of it. Scientifically it didn't work in the first place which is why we decided to stop it happening - hopefully we've proved that.
"I'm ecstatic the cull's over," he added.
But Natural England said that the decision to end the extension early "does not affect the original licence granted last year, which remains in place and which allows culling operations to take place for four years in west Gloucestershire".
Official figures on how many badgers were killed in Gloucestershire are due to be released on Monday.
A similar cull pilot in Somerset ended last month after it also failed to meet its target even after a three-week extension.
In that area there was an estimated 65% reduction in the badger population - the target was 70%.
Government ministers and the National Farmers Union believe culling badgers will curb TB in cattle.