Charlie Martell joins microlight South Pole challenge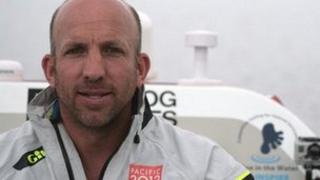 A British man who tried to become the first person to row solo across the Pacific Ocean is now preparing for an airborne challenge,
Charlie Martell, from Gloucestershire, had to abandon his journey from Japan to the US after his boat was damaged by a tropical storm.
The 43-year-old said he was later invited to be patron of an expedition to fly by microlight to the South Pole.
At the launch he was asked to join the team and accepted the challenge.
Flying for Freedom, a venture involving wounded military personnel, will head to Antarctica in 2014 and fly by microlight from the edge of the continent to the South Pole.
Double amputees
Mr Martell said: "We are based at Kemble and we've got three injured servicemen who are qualified as pilots now, there's going to be about 15 of us going to the South Pole at the end of next year.
"It's the same sort of distance as from London to Istanbul and has never been done before.
"People say 'yeah, it's for a reason', but we're going to go out there and hopefully set some records.
"Some have got a double leg amputation, there's one with a one leg amputation, there's a woman who's still serving who, I would say, is semi-paralysed from the waist down.
"There's one guy who's severely injured in terms of burns.
"All of these guys are embracing this challenge."
He said: "I've been very lucky since coming back from the Pacific last year.
"I went along to the launch and they said 'great to have you along as patron, but actually do you want to come onto the team?'.
"I thought 'absolutely' - I'm not going to turn down a once-in-a-lifetime opportunity.
"I'll be one of the support guys and the support guys need to learn to fly as well in case the injured guys need to change over pilots or need assistance in some way.
"It proves to young injured servicemen that they can go and do something like this."
Mr Martell said he also still intended attempting the Pacific challenge one more time, but this would happen in 2016.