Gloucester Cathedral World Heritage bid 'a marathon'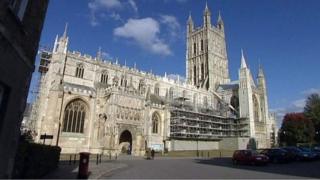 A plan to bid for World Heritage status for Gloucester Cathedral could take more than a decade, the government has warned.
Politicians agreed to begin the bidding process for the "wonderful" cathedral and will next approach the Dean.
Liberal Democrat councillor Jeremy Hilton said the process would be like a "marathon".
There are currently 16 World Heritage sites in England, including Westminster Abbey and Canterbury Cathedral.
With the next government shortlist of tentative bids not planned until the end of the decade, there is plenty of time to prepare.
"We have a marvellous cathedral with a lot of history behind it. It's one of the most beautiful cathedrals in Europe and it's certainly worthy of being considered" said Mr Hilton.
"It's something you start fairly early, do a lot of hard work to get to the point where you can first get on the government's shortlist and get the government to propose the site to Unesco.
"It would be a marvellous status for the city of Gloucester."
The Department for Culture, Media and Sport (DCMS) is responsible for the nomination of UK sites.
About every ten years, it compiles a shortlist of tentative bids from across the country. Once on the list, an independent panel of experts, who meet once a year, invite bids from the strongest schemes to put in a formal proposal to Unesco.
The Forth Bridge in the east of Scotland has recently become the UK government's latest nomination for World Heritage site status.
Paul James, leader of Gloucester City Council, said preliminary discussions with the cathedral would take place.
He said: "Gaining World Heritage status is an expensive, resource intensive and lengthy process and before embarking on it we need to be sure that it is the right course of action."