Gloucestershire County Council's £15m road rescue bid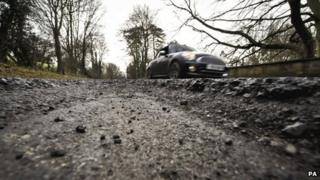 The "biggest rescue package" for Gloucestershire's roads since 2007 is being sought in a bid to the government of up to £15m.
The county council bid, to the government's Severe Weather Recovery Scheme, was announced as part of budget discussions at Shire Hall.
The money would help to pay for weather damage issues, including to the eight potential landslips.
Councillors also agreed to freeze the county's share of council tax.
'Massive damage'
Leader of the Tory-run council Mark Hawthorne said: "This is the biggest rescue package for Gloucestershire roads that we've pursued since 2007.
"We've spent a considerable amount of money since 2007 protecting Gloucestershire homes and businesses from flooding, which has helped a great deal, but there has still been very considerable damage to our roads.
"David Cameron has seen some of that damage for himself and I know, from speaking to him, that he is championing the needs of flood-hit communities like Gloucestershire."
The council said that recent wet weather and flooding in the county had caused "massive damage" to the road network.
It is the fourth year in a row the council has agreed to freeze its share of council tax.