Tewkesbury flood grants for small business owners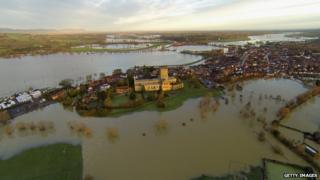 Flood-affected business owners in Tewkesbury are being invited to bid for a share of £55,000 to help their cause.
The borough council hopes a cash boost will help with clean-up costs as well as materials and business promotion.
Grants are available to those with small or medium-sized businesses who have either been flooded or suffered a significant loss of trade.
Prolonged bad weather has meant the flood plains surrounding much of the town have been under water for months.
Flood water entered some properties and shut a number of roads into the town centre but the water levels were much lower than during the town's flood crisis in 2007.
Tewkesbury Borough Council said it wants the businesses affected by the flooding to have easy access to the range of financial support available.