Cygnet left in Gloucestershire after parents migrate without it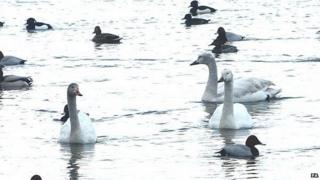 A Bewick's swan cygnet appears to have been left behind at a wetland centre in Gloucestershire by its migrating parents, conservationists have said.
The swans overwinter in Europe and the UK before returning in spring in large family groups to the Russian Arctic.
With the mild weather, the Wildfowl and Wetlands Trust said all but 10 of its Slimbridge flock had left already.
The trust's Julia Newth said it was only then she noticed a remaining family had acquired an extra cygnet.
According to the trust, the lone cygnet has attached itself to swans Wooton and Stinchcombe and their four cygnets but was still calling for its parents.
Ms Newth, who has learnt to recognise the hundreds of swans in the flock by their individual facial markings, said the separation was "unusual".
"Occasionally, cygnets become separated from their parents during migration when there is perhaps bad weather but it is rather more unusual to see such a separation before the journey has begun," she said.
"We're all waiting to see whether the parents return.
"If they don't, and it leaves with its adopted family, we will call on our extensive network of swan researchers along the 2,500 mile journey to Russia to keep an eye out for them and check whether the lone cygnet manages to stay with them."
Wooton and Stinchcombe are ringed and could be spotted with their family along the 2,500 migration route, on which they will rely on a chain of wetland sites to rest and feed.