Corinium Museum launches Adopt a Roman Coin campaign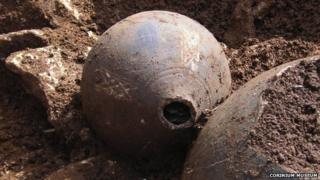 A campaign to keep a huge hoard of Roman coins in the Cotswolds has been launched.
The 1,500 coins, which date from AD 260s - 280s, were unearthed by a metal detector enthusiast in 2010.
The coins, dubbed the Tetbury Hoard, were donated to the Corinium Museum in Cirencester by the landowner.
However, the museum now needs to raise £15,000 to cover the cost of preserving the hoard.
Kevin Ronaldson, Friends of Corinium Museum chairman, hopes the Adopt a Roman Coin campaign will be successful.
He said a donation of £10 will help "raise the funds needed to see the museum's first Roman coin hoard on public display".
The curator of the Corinium museum Amanda Hart said they are using very modern techniques to help preserve a very ancient collection.
"We're going viral with it - we are out there on Twitter and Facebook - we are hoping not just to get support from the local community, but anyone who is interested in Roman history and preserving Roman history," she said.