Forest of Dean road opens 16 months after landslip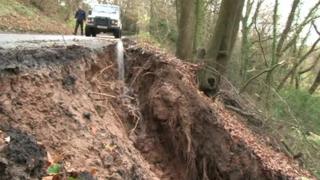 A road which has been closed for 16 months because of a landslip has reopened.
The busy commuter route between Drybrook in the Forest of Dean and Ross-on-Wye closed in November 2012.
Repair work costing more than £150,000 was complicated as the landslip occurred next to a gas main.
But residents have asked the council to consider a weight restriction on the road. One local businessman said he was "disappointed" at the move.
The Road Haulage Association said it was consulting with businesses which said they had suffered financially because of the long closure.
During the closure motorists were diverted along the A4136 to Huntley then the A40 towards Ross.
Jake Hale, the manager of Hale and Co, said: "It's very, very hard to take as the larger vehicles are the ones that costs us most.
"Somehow we've got to find a way to not pass that on to our customers."