Police deny badger cull 'communication'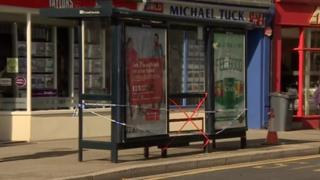 Police did not tell marksmen involved in last year's badger cull the location of protesters, senior officers said.
The allegation was made in court as a driver admitted crashing a van loaded with badger carcasses into a bus stop in Gloucester.
David McIntosh crashed after a radio he had been using to monitor police messages fell under his foot pedals, Stroud magistrates heard.
McIntosh, 28, of Altrincham, Cheshire, was employed to remove the carcasses.
Speaking after the hearing, Gloucestershire Police said they "maintained operational independence" during Operation Themis, the name given to the work the force did during the cull.
Police investigating
McIntosh pleaded guilty by post to driving without due care and attention and driving otherwise than in accordance with a licence.
The court heard the crash, which happened in Worcester Street, Gloucester, last September, was caused when the radio he used to receive messages from the police fell under his foot pedals.
The defendant was ordered to pay £141 in fines and costs and given six penalty points.
A police spokesman said they were "aware of his reasons" for the crash.
"We would like to make it perfectly clear that at no point during the pilot badger cull did police communicate the location of protesters to any contractors," he said.
"Throughout Operation Themis, the policing response to the pilot badger cull, we have maintained our operational independence and ensured the safety of the public."
The spokesman added an investigation into the comments made by McIntosh was taking place "to determine if any further action is appropriate".