Anger over latest closure of Westbury-on-Severn surgery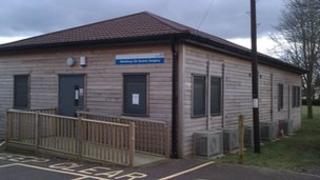 Local people in the Forest of Dean have expressed their anger over the latest closure of a GP surgery beset with phone and computer difficulties.
The new £300,000 Westbury-on-Severn Surgery closed on its opening day in January 2013 due to computer problems and did not reopen until December.
It then remained open for a month before telephone issues forced a second closure.
Westbury resident Geoff Sterry said the situation has become "a bit of a joke".
He said: "It cost hundreds of thousands to build it, but it's still closed and nothing seems to be done about it."
Councillor Norman Stephens described the latest delay in reopening as "ludicrous".
The Forest of Dean district councillor, who represents Westbury and Newnham, said people around Westbury and the surrounding areas had "lost faith".
"It's become the most farcical situation you can ever imagine. It's a catalogue of ineptitude and there doesn't seem to be any sense of urgency to get it resolved," he said.
NHS England said it was working with the practice on the technical issues so that it can return to a normal service at the branch surgery "as soon as possible".
A spokesman said patients can still use the main surgery in Newnham which continues to offer a full service.