Battle of Tewkesbury site campaigners 'ready to make bid'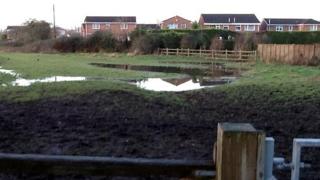 Campaigners who want to protect the site of a 15th Century Wars of the Roses battlefield say they are now in a position to make a bid to buy the site.
The land where the Battle of Tewkesbury was fought was due to be sold in an auction with a deadline of 3 February.
But Tewkesbury Borough Council listed the site as an asset of community value, giving campaigners time to raise funds for the site.
The land was put up for sale by Tewkesbury School's trust fund.
It had a guide price of £120,000 to £150,000.
'Amazing response'
Campaigners said they feared the land could be sold to a developer and be built on.
The group of medieval enthusiasts and local residents want to keep the site as a public open space.
Tewkesbury Battlefield Society chairman Steve Goodchild said: "Unbelievably, from a standing start in two months we are in a position to be able to make a sensible bid for the field."
He said they had an "amazing response" to the appeal, with donations from all over the world.
"We have now informed the governors' agent that we are in a position to bid and await a response," Mr Goodchild added.