Gloucestershire Police 'living hell' threat complaint upheld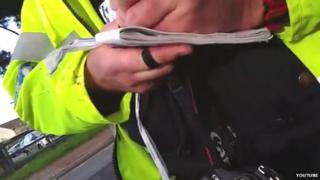 A complaint has been upheld against a police officer who was secretly filmed threatening to make an amateur photographer's day a "living hell".
Footage posted on YouTube appears to show the officer threatening to arrest the man and saying "you're lucky I didn't knock you out".
Gloucestershire Police has given the sergeant, who was removed from frontline duties, a written warning.
The force has also apologised "unreservedly" to the man involved.
Behaviour 'fell short'
The altercation happened last November after the photographer, who wants to remain anonymous, had been taking pictures of a road in Churchdown following a fatal collision.
He got into a heated exchange with the on-duty officer and began secretly recording part of it which he then uploaded to the internet.
The pictures, he said, had not featured anyone involved in the collision and he was going to submit them to the local newspaper.
The force began a full misconduct investigation in January which it has now completed.
"A written warning has been given to the officer and we apologise unreservedly to the member of the public for the way they were treated," said a spokesperson.
"All officers sign an oath to serve the public with respect to all people and while we believe our staff uphold this in the vast majority of incidents, clearly in this case the standard of behaviour fell short of what is expected.
"The officer was removed from frontline duties at the start of the internal investigation and will now be subject to a personal development plan to ensure this doesn't happen again."
The photographer said he had declined an offer from the officer to apologise to him in person as he still had issues with things said during the investigation.
"Ultimately, I wasn't breaking the law, or disclosing anything personal like he was alleging, he should have just left me alone and nothing would have happened," he said.