Gloucester's 'ugly' buildings could get 'glamour' cladding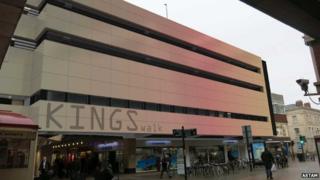 Gloucester's "ugly" buildings could be given a make-over using modern cladding ahead of the 2015 Rugby World Cup.
The city council has set aside £150,000 to transform four high-profile buildings - with Kings Walk shopping arcade identified as the first.
The technique involves attaching patterned, textured panels, which can change colour, onto the buildings.
A council spokesman said the idea is to transform less glamorous buildings from "ugly ducklings to very fine swans".
The council's cabinet is due to consider a report on the plans later in spring.
Four world cup matches will be played at Gloucester's Kingsholm stadium.