Hospital opens at Gloucestershire bird-of-prey centre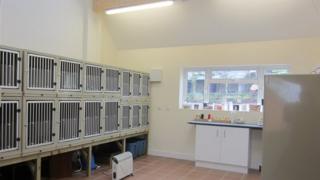 A hospital to treat wild birds has been officially opened at a bird-of-prey centre in Gloucestershire.
The £35,000 hospital at the International Birds of Prey Centre, near Newent, was partly funded by the Forest of Dean District Council.
The facility will allow the centre to triple the number of birds it can treat at any one time.
Centre director Jemima Parry-Jones said: "We only had room for about six injured birds and now it's 18."
'Vile little room'
The centre, established in 1967, takes in up to 100 injured wild birds of prey a year from the general public.
"We always had a vile little room, an old generator shed," said Ms Parry-Jones.
"Now we have 18 critical care boxes and two small walk-in rooms - where we can put the birds when they are beginning to recover before they go out into aviaries."
The centre was funded with a £20,000 grant from the Forest of Dean Local Action Group (LAG), matched with £15,000 raised by the centre.