The Old Bell in Gloucester to be lit up at night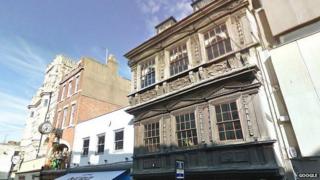 Plans have been unveiled to light up one of the oldest buildings in the centre of Gloucester at night.
Gloucester City Council wants to illuminate the 350-year-old Old Bell in Southgate Street to bring out the details of its timber facade.
The Grade I listed building's windows will be lit by white LED rope lights and its carved detailing by low-energy up-lighters.
Funded by a £2m City Centre Investment Fund, it should be complete by August.
Councillor Paul James said: "It is a very ornate and attractive frontage and we want to make the city look as good as possible at night.
"We've got a strategy for lighting some of the key historic buildings in the city centre and this is the next one to be done."
The 16th Century building, sometimes referred to as the 'Old Blue Shop', was a former apothecary's townhouse but is currently a restaurant and coffee shop.