Woman jailed for drunken crash that paralysed man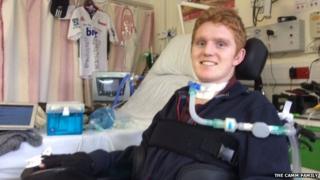 A 19-year-old drunken driver who left an acquaintance paralysed from the neck down has been jailed for two years.
Molly Zoglowek was twice over the legal limit when she crashed her car while driving five people home from a nightclub in Dursley, Gloucestershire.
Rob Camm, 20, a student and promising rugby player, fractured his neck in the crash on 15 September.
Zoglowek, of Leaside Close in Cam, sobbed as she was sentenced at Gloucester Crown Court.
Judge Jamie Tabor said anyone who felt sorry for her should think of Mr Camm.
"One of the most tragic aspects is that he still dreams of being able bodied and playing rugby," he added.
"Every young person temped to drive after drinking to excess, or being driven by someone who has, should hear of this case.
"Rob Camm suffered catastrophic injuries. He was academically an outstanding student... with a promising career ahead."
'Catastrophic injuries'
Zoglowek, who had only met Mr Camm that night, had been persuaded to drive the group home but only had four seatbelts in her car.
Mr Camm was sitting on the lap of the front passenger when the car hit a stone wall and two lampposts on Dursley Road.
His family said in a statement: "Rob's injuries are catastrophic and life changing for him. They have also had a devastating impact on us, his friends and our local community.
"We have been overwhelmed by the kindness and support given to us as a family at this truly horrendous time - we are touched and immensely grateful.
"Rob wants to rebuild his life and we will all be helping him to do so."