Woodchester mansion 'needs more visitors' to raise funds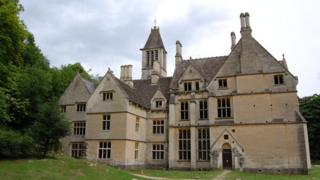 Trustees at a Victorian Gothic mansion near Stroud say they want to see an eight-fold increase in visitor numbers in order to raise funds for repairs.
Woodchester Mansion currently attracts about 6,000 visitors each year but staff want to garner about 50,000.
Until now the property was only open to the public on particular weekends, but it has now begun opening six days a week.
The Grade-I listed building dates from the 1850s, and was never finished.
Terry Robinson, chairman of Woodchester Mansion Trust, said: "Awareness of this magnificent mansion has to be hugely boosted.
"A whizz around this house and you come out really dazzled. It is a nationally important treasure.
"It should be visited by many more people. I am looking to draw 50,000 visitors rather than 6,000 a year."
"80 million visitors"
Mr Robinson said "several million pounds" was required to get the building into a "steady state".
"But once we've done that and got the building properly watertight, so it doesn't suffer weather damage, we want to keep it in good repair thereafter.
"That means we need to be trading and creating a surplus of money to plough back into building repairs, and to do that we need many more than 6,000 visitors a year.
"The Cotswolds gets about 80 million visitors a year. We would expect to be able to get more people visiting Woodchester than do at the moment."
The mansion was commissioned by William Leigh but the Victorian workmen mysteriously downed their tools and abandoned it mid-construction in 1873.
The building is owned by Stroud District Council and is managed by Woodchester Mansion Trust.