WWT Slimbridge given fresh hope with wild crane chick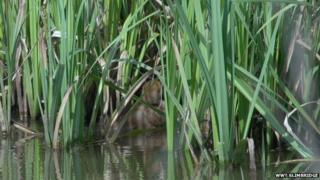 A recently-hatched crane chick has given conservationists fresh hope about seeing a new generation of wild cranes in the west of Britain.
The crane chick was spotted on Sunday at WWT Slimbridge in Gloucestershire, where its parents were hand-reared.
Conservationist Nigel Jarrett said it was "incredibly exciting", especially after the same breeding pair lost a chick last year due to the weather.
Cranes were once commonplace in parts of the region in the 1600s.
In a bid to reintroduce them to the west, the Wildfowl and Wetland's Trust (WWT) launched its Great Crane Project to hand-rear chicks at Slimbridge and release them 60 miles (97km) away on the Somerset Moors and Levels.
Nearly 80 cranes have been reintroduced in the past four years but a few have flown back up the Severn Estuary to breed at WWT Slimbridge.
Breeding pair Chris and Monty laid an egg at WWT Slimbridge last year but it failed to survive its first few days after reportedly being abandoned due to a spell of wet weather.
Mr Jarrett, the WWT's head of conservation breeding, said this new chick would hopefully be part of a new generation of wild cranes re-colonising parts of Britain that have not seen cranes for 400 years.
"There's been an overwhelmingly positive response to the return of the cranes from people across the west of Britain," he added.
"They are a fantastic advert for restoring wetland habitats."
As for the large flock remaining in Somerset, Damon Bridge from the RSPB - a project partner - said the cranes were still "learning and adapting" to their new home and "searching for suitable sites to successfully rear their young".