Frampton Crossing rail death victim Paul Martin 'was fantastic'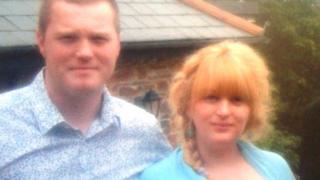 The pregnant wife of a man killed as he rode his motorbike across a railway crossing near Stroud has paid tribute to him as "a fantastic father".
Paul Martin, 37, of Cashes Green Road, Stroud, was hit by a train on Frampton Crossing, on 11 May.
Mr Martin's wife Lorna said he was "my entire everything" and "was completely besotted with our son and baby which is on its way".
British Transport Police said an inquiry into the collision continues.
"An investigation is ongoing to establish the full circumstances surrounding the collision and officers are assisting with the preparation of file for the coroner," said a British Transport Police spokesman.
Mrs Martin said her challenge for the future would be to "keep his memory alive so that our children grow up knowing as much about him as they can and to create a life for them that he would be proud of."