Forest of Dean wild boar cull target 'to rise significantly'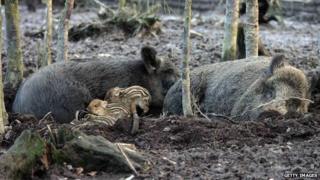 A cull target of wild boar in the Forest of Dean is expected to "rise significantly", the Forestry Commission has warned.
It said the population of boar was twice the size it should be, despite a cull of 135 over the winter.
A thermal imaging survey has suggested there are 819 in the forest, an increase of 284 from last year.
In 2012 the cull was suspended over concerns the numbers were too low and the species could be eradicated.
The following year the commission agreed a living population of 400 wild boar in the area.
'Not considering eradication'
Now the commission says the latest survey confirms the population is still growing despite annual culls.
"Each year that the population grows makes it harder for us to bring numbers down to a sustainable level," said deputy surveyor, Kevin Stannard.
"While we are not considering eradication, we do expect our cull target to rise significantly in the light of this new estimate as we need to bring the population of boar on the Public Forest Estate under control."
The commission said it was yet to make a decision about the cull for the coming autumn and winter.
It is an issue that divides opinion, with previous fallout over the cull target because of varied estimates of how many boar there actually are in the Forest of Dean.