Neil Bennett stabbing: Christopher Horn jailed for a minimum of 25 years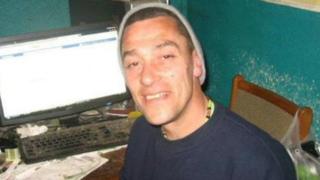 A Gloucester drug dealer has been sentenced to a minimum of 25 years in jail after he stabbed a man to death over a debt of £10.
Christopher Horn, 29, attacked Neil Bennett twice last July after he had gone to a flat to buy drugs.
Horn stabbed his victim with a kitchen knife before chasing him in Gloucester Park and stabbing him again, fatally.
The incident happened hours after hundreds of people had filled the city's park for the annual carnival.
Horn, of Denmark Road, Gloucester, was found guilty of murder at Bristol Crown Court on Thursday.
Sentencing him, the Honourable Mr Justice Dingemans said: "There is no doubt that if Mr Horn had been able to stay away from drugs he might have been a working and useful member of society."
Speaking outside court Det Insp Ian Ginn said this had been a "violent attack" that left a family without a son, brother and uncle.
"Our thoughts are with Neil Bennett's family at this time.
"Although crimes of this nature do happen they are rare in Gloucestershire.
"In this case the victim and his killer were known to each other and the underlying issue of drugs was also an aggravating factor."
Three other defendants Tyler Johnson, 25, of no fixed address, Ricky James, 33, and Lucy Dowdall, 19, both of Spa Villas, Gloucester, were acquitted of all charges.