No new cases of killer tree disease in Forest of Dean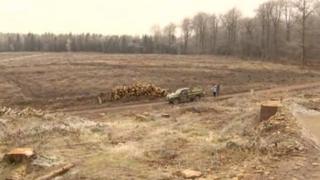 A killer tree disease appears to have been eradicated in the Forest of Dean after work to fell some 100,000 trees.
The Forestry Commission is working to stop the spread of the Phytophthora ramorum fungus which is destroying trees across Britain.
Some 120 hectares (296 acres) of larch and sweet chestnut trees have been felled in Gloucestershire since 2012 without new reports of the disease.
However, the commission said it remained vigilant to further outbreaks.
'Remain at risk'
Peter Kelsall, planning and environment manager for the Forestry Commission, said: "The fact that the disease has not been identified in the Forest of Dean since the original outbreak gives some hope that the prompt response in 2012 may have prevented the disease from gaining a foothold.
"However, given the extent of the disease across the forests of south Wales, the 830 hectares of larch species on the public forest estate in the Forest of Dean and outlying areas in south-west Gloucestershire remain at risk of infection.
"We continue to be vigilant for symptoms and employ disease control measures for staff and contractors working in areas where the disease has already been identified to minimise the risk of spread."
The fungus was first found in the UK in 2002 and it infected few trees until 2009 when the pathogen was found infecting and killing large numbers of Japanese larch trees in the South West.
Since then it has been recorded as spreading extensively through forests in south Wales, north-west England, south west Scotland and Northern Ireland.