Banksy confirms Cheltenham 'spies' artwork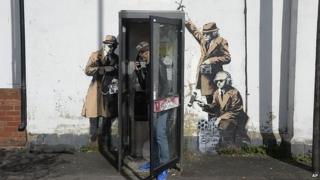 Banksy has admitted he painted a work of art depicting three spies "snooping" on a telephone box in Cheltenham.
The work appeared in Hewlett Road in April, but until now there was no confirmation it was by the Bristol-based artist.
But, in a question and answer session on Banksy's official website, he stated he had created the piece.
It has attracted hordes of visitors since it appeared three miles away from the Government listening post, GCHQ.
'Lingering doubt'
Richard Jones, the author of a book about Banksy, said he was "very pleased" the work had been authenticated.
He said: "There was some lingering doubt about whether it was his work or not. We now know that Cheltenham has a significant piece of work by Banksy in the town."
Mr Jones added that it would be difficult to put a monetary value on the artwork because of its location.
"It would be virtually impossible to remove it, both because of the size of the piece and its location, but also because the phone box is central to the piece. You'd have to take the whole lot and I don't think that's practical."