Cricket scorer recognised in Queen's Birthday Honours list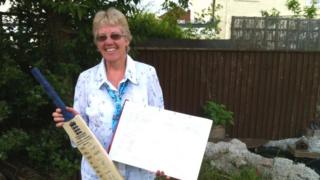 A cricket scorer has received a British Empire Medal for services to cricket in the Queen's Birthday Honours list.
Sue Drinkwater, 52, from Cheltenham, who has spent three decades training cricket scorers, said she was shocked but thrilled to be given the award.
"I don't know that I do any more work for scorers or cricket than anyone else does," she said.
Other local award winners include a safety knife inventor and former dictionary editor.
John Simpson from Cheltenham, former chief editor of the Oxford English Dictionary, was awarded an OBE for services to literature.
One of those appointed MBE is Bill Ireland, 79, from Churchdown, who invented the Fish Safety Knife to safely cut the string on hay bales.
His innovation has been expanded and exported and his business, which employs 20 staff, had a turnover in excess of £1m in 2012.
"I'm surprised how well it has done and am stunned by its success" he said.
Other local winners include Jon Doney, who became an MBE for services to British show jumping and the former chief fire officer for Gloucestershire, Jon Hall, who has been awarded the Queen's Fire Service medal.