Severn Princess car ferry restoration begins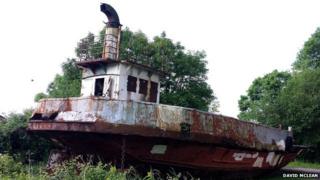 The first phase of restoration work has begun on a ferry - once used by Bob Dylan - that carried passengers and cars across the Severn Estuary.
The Severn Princess was one of a fleet of three ferries operating between Beachley and Aust, from 1931 until the opening of the Severn Bridge in 1966.
Before the ferry service, drivers faced a 60-mile detour through Gloucester.
One of the most famous passengers was Bob Dylan who was captured waiting at the Aust terminal in May 1966.
'Important relic'
Photographed by his official tour photographer Barry Feinstein, Dylan was waiting to catch the ferry on the way to a gig at Cardiff's Capitol Theatre, having been booed at the Colston Hall in Bristol the previous night for playing electric guitar.
"The historic importance of the ferry service should not be underestimated," said Tim Ryan, Coordinator of the Severn Princess Restoration Group.
"It was a hugely popular service and in the last year of operation around half a million vehicles used the ferries."
Engineers are assessing the condition of the ferry before repairs can be made including replacing the metal fabric.
"It's very important that the Severn Princess is restored and preserved as a permanent relic of that crucial period in the history of the region, and as a tribute to Chepstow as both a crossing point between Wales and England and as an industrial base," said Mr Ryan.
Once the work is complete the group hopes the Severn Princess will become a permanent heritage attraction and feature on the Welsh Coastal Path.