'Missed opportunity' over Marjorie Whitney death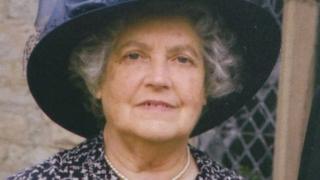 There was a "missed opportunity" to save an elderly woman who was misdiagnosed after fracturing her spine, a coroner has ruled.
Marjorie Whitney, 92, from Drybrook, Gloucestershire, was admitted to Gloucester Hospital on 10 May after falling twice at the Dilke Hospital.
Diagnosed as having had a stroke, her spinal cord neck injury was overlooked. She later developed pneumonia and died.
Her family claim that "if her neck had been secured" she would have survived.
Mrs Whitney was recuperating at the Dilke Hospital following a hip operation when she fell twice within hours and was admitted to Gloucester Hospital with head injuries.
'Couldn't talk clearly'
Misdiagnosed by doctors, she was treated for a stroke and it was only later that her spinal cord injury was picked up following an X-ray.
In a narrative verdict into her death on 23 May, the coroner at Gloucestershire's Coroner Court said the misdiagnosis had led to a "missed opportunity to treat her condition".
Colin Smith, her son-in-law, said doctors had assumed it was a stroke because of her age, her confusion and "the fact she didn't have her teeth in and wasn't able to talk very clearly".
The two trusts involved in Mrs Whitney's care, said that lessons from the inquest would be shared with staff involved in her care, the clinical department and also the wider organisation.
They said they would be contacting her family and inviting them to meet up to discuss any other concerns they might have.