Lydney Harbour offered for sale to secure its future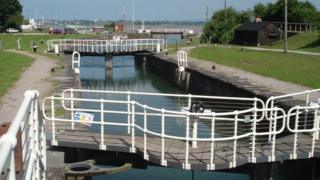 New owners are being sought to "secure the future" of a harbour.
The Environment Agency, which currently manages the River Severn moorings, said it was looking for an investor for Lydney Harbour to lead a regeneration of the Forest of Dean area.
Expressions of interest are being invited from third party groups willing to maintain and enhance the harbour, the agency said.
It was built in the early-1800s to transport iron and later coal.
"We are committed to finding new owners who can secure the long-term future of this important historic site," said Dafydd Evans from the agency.
"The Environment Agency wishes to concentrate on its core operations which will include maintaining the responsibility for the flood defence gates within the harbour."
The final export of coal from the harbour was in 1960 and it carried on working until 1977 when it was closed.
During its heyday there were about 300,000 tons of coal being exported annually in more than 2,000 vessels.