A417 scheme to be "seriously considered", Transport Secretary says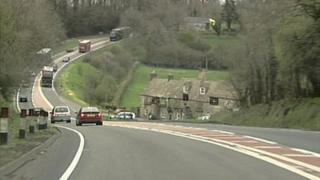 The Transport Secretary has said he is in a position to "seriously consider" a scheme to fix a notorious accident black spot in Gloucestershire.
Patrick McLoughlin was visiting a stretch of the A417 near Birdlip, dubbed the road to hell, where the dual carriageway is reduced to single lane.
The county council wants the government to fund the A417 Loop - a proposed additional dual carriageway and bypass.
Mr McLoughlin said he hoped a decision would be made at the beginning of 2015.
The three-mile (5km) stretch of road, which connects the M4 near Swindon to the M5 near Gloucester, is used by 34,000 vehicles daily.
Since 1998, more than 340 people have been killed or injured on the road.
In April, it was added to the Highways Agency's list of road scheme priorities.
Six routes across the country are being looked at.
Mr McLoughlin said: "The chancellor has committed extra money for road schemes and therefore we are in a position where we can seriously consider this scheme.
"There's been a number of ideas that have been put forward and I'm looking forward to seeing the result of that work later this year."
Tewkesbury's Conservative MP Laurence Robertson said the Transport Secretary's visit had added "impetus to the campaign".
"He's obviously got to balance the needs of the country," he said.
"But he's seen for himself how difficult this is and let's hope for the best."